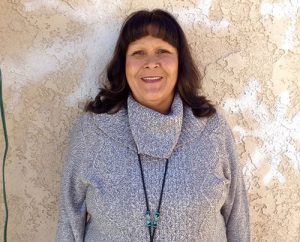 Tonette (Corn) Miranda is a member of the Morongo Band of Mission Indians and grew up on the reservation. She has two boys, Pete Jr. and Rich, and two girls, Shila and Shawnoa. She started working at Carol's Kitchen two and a half years ago in August 2012 after hearing about it from a friend. She has since delighted Carol's Kitchen guests and volunteers with her outgoing personality and hard work. In her spare time, she also volunteers with the elders in Cabazon during bingo every Wednesday. There, she helps to buy door prizes and collect funds from ticket sales. We had a chance to chat with her.
Where are you from originally? How did you hear about Carol's Kitchen?
I'm originally from Morongo reservation. I started at Carol's Kitchen in 2012 after getting myself cleaned up from drugs. I've been sober for five years. I needed something to do and that's how I found Carol's Kitchen. My friend Joyce Constantino who used to volunteer here told me about it. I basically took her place; she is no longer at the kitchen. She is still a very good friend and also a church friend.
What made you want to work at a soup kitchen?
I wanted to help the hungry and I love doing what I'm doing. It's helped me to get this far. Working with Carol's Kitchen has really helped to straighten me out. I work at the Banning and Cabazon kitchens.
What role do you serve at Carol's Kitchen?
I come in the mornings and set the tables, make juice and coffee and I also serve. My table is known as "Table No. 1."
What have been your favorite experiences at Carol's Kitchen?
I love serving food and working in the kitchen. I love socializing with everyone—the adults and kids. I appreciate that the people who come to the kitchen feel comfortable talking with me about their problems and I get the sense that I'm helping them.
In the San Gorgonio Pass area, what makes Carol's Kitchen so important? 
Feeding the homeless people and dealing with hunger. The people who come to Carol's Kitchen are not just older people, there are kids too. This has been a goal for me—to work with elderly people and help the homeless. I'm glad I have a chance to be a part of it.
Visit Corn sometime! Come by our kitchens in Cabazon and Banning.