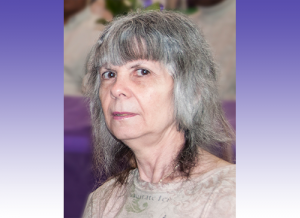 Vickie Keely has been a Carol's Kitchen volunteer since 2007. Born and raised in Los Angeles, Vickie moved to Banning in 1962 when her father acquired a job in the area. While she lived briefly in Cabazon, Vickie moved back to Banning in 1995 where she has remained ever since. Before volunteering with Carol's Kitchen, Vickie enjoyed an enriching career at the San Gorgonio Child Care Consortium from 1985 to 2002. We had a chance to chat with Vickie this past week.
How did you hear about Carol's Kitchen?
Eight years ago, a friend of mine, Mattie Tatum, told me about Carol's Kitchen over lunch and encouraged me to join. I went to the kitchen, saw what was going on and was really impressed. Ever since then, I've volunteered with Carol's Kitchen at the Banning Community Center on Tuesdays and Fridays. Mattie still works there on Tuesdays and Fridays as well; we work together.
What role do you serve at Carol's Kitchen?
I am in charge of the water and Mattie is in charge of the juice. Another volunteer named Willie does the coffee. I set up my station, with the table cloth and silverware. I also help deliver food to tables and help get bags of fresh produce and other food items together to hand out to our guests when they leave. Whatever else they need me for, that's what I do.
What have been your favorite experiences at Carol's Kitchen?
My favorite experience is being there for people who don't have much and being someone they can trust. It makes me feel good to be at Carol's Kitchen; we're one big happy family and are always there for each other. It's my home away from home. That's how much I love being there. Unless I'm dealing with a health issue or another appointment, I'm devoted to it two days a week.
Have you learned anything surprising by volunteering with Carol's Kitchen?
I did not expect to make so many friends there. Like I said, we are one big happy family and we get along so well.
In the San Gorgonio Pass area, what makes Carol's Kitchen so important? 
I think it's important for people who don't have anywhere to get a hot meal. We can feed them and we can also give them bags of produce and bread. They get a real good meal at Carol's Kitchen – a good hot meal and everyone who comes seems to have a good time and enjoy themselves. Carol's Kitchen is great for people who have nowhere else to go and nothing else to do.
Come meet Vickie! Visit our Banning location on Tuesdays and Fridays at the Banning Community Center.